Members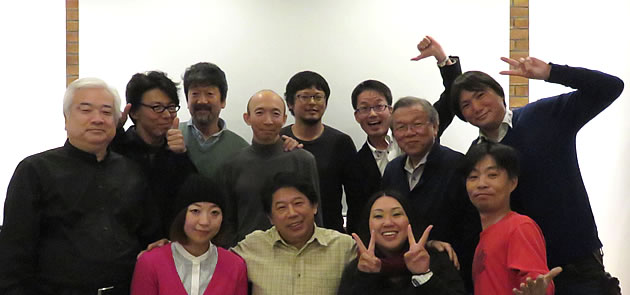 Doctor: Hajime Sakamoto
Project Leader
Hajime Research Institute Ltd.
Miki-Seisakusyo 1-7-28 Ohno, Nishiyodogawa, Osaka 555-0043 JAPAN
Phone: +81-6-4808-0686
Web: http://www.hajimerobot.co.jp/

Skills: Robot design, microcomputer control, Doctor of Engineering
Favorite Robot: Gundam
Profile:
He is known to everyone in the humanoid robot industry. He began the development of humanoid robots in 2002 and has won the championship in Robo-One, and RoboCup tournaments. In addition, teams to which he provided robots won in numerous tournaments. He saw Gundam on TV for the first time when he was in junior high school and immediately fell in love with it. Ever since then, his dream has been to build a real-scale Gundam.  He has built over 50 kinds totaling over 200 robots.
Dr in the eyes of his fellow
He is very cool and collected and people call him a robot hermit. In a special TV program called Real Robot Battle, the team won the first prize. While all the other members were overcome with joy and their family members were crying loudly, he just held up his right hand nonchalantly.  At an event for kids, they asked him how to build a robot. He flabbergasted the event's facilitator by saying "Well, you should first draw a plan using CAD" to the kid's innocent question. By now, readers might have started to think that he himself is a robot. But he is a great family guy who drives his daughter to and from school every day. Ironically, his daughter dislikes robots; and therefore, he never talks about them at home. In addition, as reflected in his quick decision to purchase expensive parts if necessary, he is quite decisive and carries out his own words to build Mobile Suit Gundam.
Iron Man: Kenji Kanemasu
Power units
Yoshinori Industry, Ltd.
1-1-7 Fukumachi Nishiyodogawa, Osaka, JAPAN 555-0034
Phone:+81- 6-6475-0067
Web: http://www.yosinori.co.jp/

Skills: Machine processing
Favorite Robot: Astro Boy
Areas of Specialty
Designing and developing of robot joints
Iron Man in the eyes of his fellows
Iron Man shared his desire to build a robot with Captain (Mr. Miki), and that led to the current robot project. He loves manufacturing and his job so much that he works almost every day except for New Year Day. He is always thinking about what to make next. He does not drink a lot because, according to him, he could spend that time on making something.
In private life, he is a joker and a great husband to his beloved wife, who is as curious and intelligent as to take programming lessons with him and write up patent application forms on her own.
He is such an up-beat lively person who always has a smile on his face and is kind enough to provide space for the project.
Captain: Shigechika Miki
Project Manager
Shigechika Miki
Miki Seisakusho Inc.
1-7-28 Ono Nishiyodogawa, Osaka, 555-0043, JAPAN
Phone: +81-6-6673-3414
Web:http://www.mikiss.co.jp/

Skills:Precision Metal Mold
Favorite Robot: Astro Boy
Areas of Specialty
3D microfabrication, Embossing roll、Production sample, 3D measurement
Profile
He graduated from Osaka Prefecture University College of Technology with an associate degree in mechanical engineering in 1981. After specializing plant engineering and resin treatment at Kaneka Corporation, he joined JICA (Japan International Cooperation Agency) and provided technical training for the faculty members at Northwest Samar State University. After his term ended, he joined Miki Seisakusho Inc. and became the CEO of the company in 1993. His company won the Advanced Technology Development Award at Venture Business Competition Osaka in 2000. He served as the adviser to R&D by regional regeneration consortiums at Ministry of Economy, Trade and Industry between 2004 and 2006. The company was chosen as one of the 100 distinctive manufacturing companies by Kansan Bureau of Economy, Trade and Industry in 2009. 
Captain in the eyes of his fellows 
Great leader with a signature beard
He always organizes the team together with a beaming smile. He is like the father of the robot project. He has maintained his beard and mustache since he was 25. He even refused to shave them off when his doctor told him to do so since it was getting in the way of the medical treatment he had to go through. He eventually partially gave in but maintained his beard. He is knowledgeable and fluent in three languages. He used to live in a remote part of the Philippines when he was young. It could be his old habit from those days, but he prefers to step into dangerous areas and blends right in whenever he goes overseas. He is always stopped at immigration and somehow a metal detector beeps each time. He is a gentleman and has a lot of topics for conversation. That's why everyone thinks that he is absolutely popular with girls at a bar.
Ara-chan : Mikio Araki
Welding and Assembly
Araki Ltd.
5-6-7 Minami Tsumori Nishinari, Osaka, 557-0063, JAPAN
Phone: +81-6-6658-0423

Skills:Equipment plate working
Favorite Robot:Golden Warrior Golden Lightan, Juohmaru(Plawress Sanshiro)
Profile
My interests are not limited to equipment plate working. 
Profile
He is the second son born to Araki Ltd., a family business part of Naniwa Cooperative Association located in Nishinari-ward. After Lehman Shock, he changed the company's passive sales style to more proactive one and began to build a stainless Gundam little by little by himself, which in turn led to his participation in the 4m robot project. He now directly communicates with manufacturers. Adults as well as children love his stainless Gundam.
Ara-chan in the eyes of his fellows
He always carries out his own words. He never gives up until goals are achieved. The project sped up greatly after he joined the project. It is said that he is the most handsome, photogenic and flawless guy in the project. He is good at making others laugh. He is surely the class clown and essential to the 4m project. 
Toshifumi Tsubouchi
Yuki Company, Inc.
3-1 Grand Front Osaka Knowledge Capital Tower C 7F GVH Ofukacho Osaka, 530-0011, JAPAN
Phone:+81-6-6155-6262
Web:http://tsubo.jp/

Skills: Connecting people to people, people to products and services
Favorite Robot: Mazinger Z
Areas of Specialty
Web design for manufacturers, web design lectures, and web consulting
TypeS:Yusuke Hatano
Exterior Design
Brionac, Inc.
6-14-18 Fukushima Fukushima, Osaka, 553-0003, JAPAN
Phone:+81-6-6147-2380
Web: http://brionac.jp

Skills:Design
Favorite Robot:Z'GOK
Areas of Specialty
Product and interior design, Branding
Type S in the eyes of his fellows
He is picky about appearance and obsessed with making a "cool robot". He has made the project's logo as well as the exterior of the robot. He is very knowledgeable, especially of geeky trivia. Since he can do many things, he is always busy. According to him, he feels uneasy when he is not busy. He relentlessly gives his opinions to others even to his seniors including his older fellows of the project; however, since he does so out of good will, nobody gets hurt. 
Shigeyuki Uratake
Toaseki Co. Inc.
2-11-19 Nakajima Nishiyodogawa, Osaka, 555-0041, JAPAN
Phone:+81-6-6474-5688
Web:http://www.toaseikei.com

Skills: People person
Areas of Specialty 
Integrated production of urethane foam molds of automobile seats
Manufacturing design 
Ryusuke Shishido
Arch Japan Co. Inc.
1-7-20-401
Ebisu-nishi Naniwa
Osaka, 556-0003, JAPAN
Phone:+81-6-7502-5379
Web: http://archjp.com

Skills: daydreaming
Favorite Robot: Gouf
Areas of Specialty
Based on the belief that by adding design to manufacturing business, we can create a popular company, I do branding of manufacturing businesses. I help make factories appear to be a more fun place to work at by adding design to them.
Sawako Yagi
Pleasure Factory
Room 1001 1-2-2 Ono
Nishiyodogawa, Osaka, 555-0043, JAPAN
Email:info@leisure-leisure.jp

Skills:Planning and operation of amusement parks and theme parks
Favorite Robot: Transformer
Profile
I love amusement parks and theme parks so much that I make business out of them as well as spend chunk of my free time there.  Although I mainly plan new attractions and events for existing parks, I also have experience in launching new parks and managing ones. 
Side Note: When you are involved in amusement/theme park business, you can meet passionate people as well as make your own dream come true. I feel the same passion from the people in this robot project and it is my dream to show the 4-meter robot at museums and theme parks.